Inactive Medical Record Governance at St. Carolus Hospital Jakarta
Keywords:
Governance, inactive medical record, implementation of medical record depreciation
Abstract
Medical record depreciation is an activity of reducing archives from storage shelves by moving inactivated medical records archives from active shelves to inactivated shelves according to the year of visit. Preliminary observation results show the process of media transfer in the medical record unit has not reached the target of a minimum number of 50 medical records per day. This research aims to find out the governance of inactivated medical records at St. Carolus Hospital Jakarta. The research methodology used is a descriptive method. It can be concluded that the standard operating procedure for shrinking medical records in St. Carolus Jakarta already exists but is not complete because the depreciation stage related to transfer, value assessment, media transfer has not been listed in the standard operating procedure. The medical records unit has carried out the depreciation process with the male medical record officer as its executor but the implementation is not based on the assessment of the value for medical records due to the absence of an assessment team. The constraint factors in the medical record unit are related to the man, money, material, method, and machine.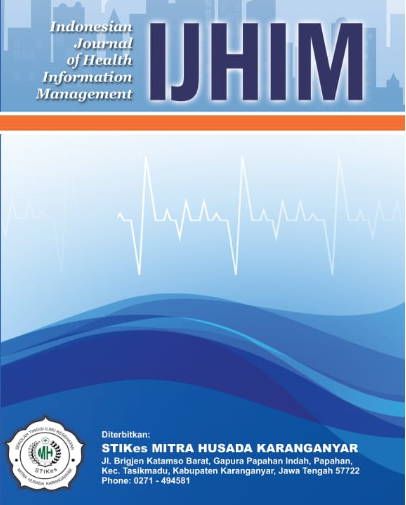 Downloads
How to Cite
Menna, Y. R., Widjaja, L. ., Muniroh, M., & Putra, D. H. (2022). Inactive Medical Record Governance at St. Carolus Hospital Jakarta. Indonesian Journal of Health Information Management, 2(2). https://doi.org/10.54877/ijhim.v2i2.62